The last couple of years' worth of silver and silver jewellery news and analyses have consistently reminded us of the rise in silver demand, rise in silver jewellery production, and, to borrow a cliché, SILVER IS THE NEW GOLD.
According to the World Silver Survey 2023, all major silver demand categories reached new highs in 2022, bringing overall silver demand to a new high of 1.242 billion ounces (Boz) last year. Jewellery, silver artefacts, and silverware all increased by 29 and 80 percent, respectively, bringing total world silver demand to a new high.
Reading numbers and figures is one thing, but seeing the frenzy over silver on the ground is an entirely different experience. The SILVER SHOW OF INDIA (SSI) puts silver in the forefront. The gleam and sparkle of silver can be seen in the wonderful jewellery, antiquities, and silverware on display.
The demand for jewellery and antiques has swamped exhibitors, retailers, and everyone else in the value chain. This bullishness is fueled by rising gold prices, consumers' need for a diverse range of jewellery at reasonable prices, ever-changing fashion trends… and, lastly, the simple elegance of silver.
SSI witnessed the retail biggies- Kalyan, Bhima, Thangamayil, and others—going on a shopping spree, much to the delight of significant producers such as Purple Jewels, Emerald Silver, Silver Empire, R V Agarwal, and Derewalla Industries.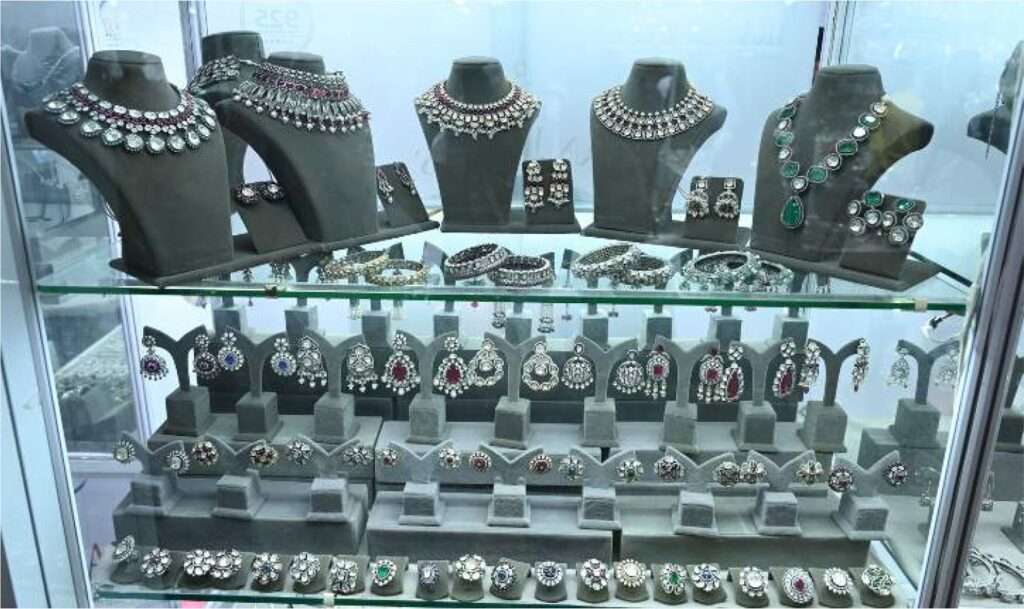 As we went around chatting with some of the big buyers, it hit us that purchases of one tonne.. and more was the flavour of the day.The top of the pyramid were blown away by the range, variety and pricing. "I am stunned by the variety and range of silver jewellery available under one roof. Visiting SSI, we realized the variety of silver jewellery available in India. I see a major trend in popularity of silver jewellery — a new trend of consumers purchasing silver artefacts and decorative articles. Besides silver jewellery there will growth in silver furniture, silver in pooja rooms", said Rajesh Kalyanaraman, Executive Director – Kalyan Jewellers.
I have never seen such a beautiful jewellery trade event, with especially one dedicated to silver jewellery, with such wide variety.For two days I have been constantly meeting with manufacturers exhibiting at SSI and placing firm orders", said BA Ramesh, Joint MD-Thangamayil Jewellery Ltd, one of the biggest, and most respected players, in the jewellery fraternity.
Purple Jewels whose portfolio consists of large variety of Temple jewellery and mix range of fusion jewellery, saw buyers swarming at the stall. The ornamental royal sword, statue of Padmababhan Swamy were the cynosure of all eyes. Ditto at Silver Empire: the masterpieces in jewellery, exquisite idols, and the magnificient statue of Shivaji Maharaj showcased unparalleled craftsmanship in indias silver jewellery segment.
It is not just about growing demand, increasing sales, but about respect and recognition. "SSI has been revolutionary for the silver jewellery and artefacts segment.It has brought recognition to the silver industry, in India and internationally.This is silver's moment", says Dharmesh Sheth, Proprietor, Om Jewels.
At the cost of being redundant, we will sum up our trip through the SSI aisles by saying that silver is unquestionably in the spotlight.