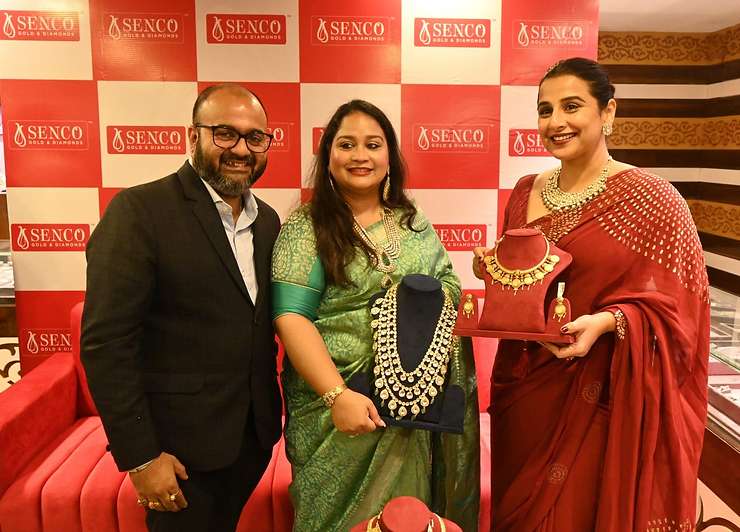 Vidya Balan attended the opening of the company's two new showrooms in Kankurgachi and Hatibagan. Suvankar Sen, MD & CEO of Senco Gold & Diamonds, and Joita Sen, Director & Head of Design & Marketing of Senco Gold & Diamonds.Senco Gold & Diamonds has surpassed the landmark of 150 showrooms nationwide with the addition of two new locations.
While the Kankurgachi showroom has 2100+ square feet to cater to the cosmopolitan crowd in the neighborhood, the Hatibagan showroom has 11500+ square feet and is Senco's largest showroom countrywide.
Senco Gold & Diamonds unveiled a variety of designs and jewelry pieces under the Shagun Collection, a range of magnificent pieces for all occasions, from contemporary light weight to royal traditional patterns, as part of the great celebration. Everlite's Lotus line is inspired by Lotus designs with enamel and meenakari work, indicating auspiciousness and prosperity, as well as the blessings of Goddess Laxmi for Dhanteras and Diwali. The Signature Collection was inspired by Senco's emblem, which featured swan and lotus designs, signifying the peace and benefits of Lakshmi Puja. The Power Collection is inspired by the power found in nature and inside ourselves. The collection reflects each individual's innate power and tenacity, which shows through with time and the tide of life experiences. Senco Gold and Diamonds' workmanship is evident in the Meenakari, Nakshi, Filigree, and Jadau work on each piece of jewelry.
Suvankar Sen, MD & CEO of Senco Gold & Diamonds, commented on the momentous occasion, saying, "We are excited to celebrate this incredible milestone with the launch of our 150th showroom, and we are privileged to have Vidya Balan with us to make this occasion even more special." Vidya Balan, the epitome of grace and elegance, has been a part of the Senco Gold & Diamonds family for many years. Her partnership with Senco Gold & Diamonds has been defined by a mutual dedication to appreciating the beauty and vitality of women, and she has been instrumental in exhibiting our jewelry lines that speak to the modern Indian woman. We will continue to strive to provide magnificent jewelry while assuring customer happiness."
"Celebrating our 150th showroom is not just a milestone for Senco Gold & Diamonds; it's a testament to our unwavering commitment to adorning the dreams of millions," said Joita Sen, Director and Head of Design & Marketing, Senco Gold & Diamonds. This moment shines even brighter with the grace and elegance of Vidya Balan, our adored brand ambassador, expressing our shared ideals of beauty, tradition, and the soul of every Indian woman."
"My association with Senco Gold & Diamonds goes back a long way," Vidya Balan added. Senco's journey has been incredible, and the achievement of 150 showrooms demonstrates their dedication to offering great craftsmanship and elegant designs that have earned the hearts of millions of jewelry lovers throughout the years.