Shiv Narayan Jewellers Pvt Ltd, the pride of the nation, displayed a brand new masterpiece 'Shri Ananth Padmanabhaswamy,' dedicated to Dr. B. Govindan, Chairman of Bhima Jewellers Thiruvananthapuram, at IIJS 2023. The magnificent event was attended by respected industry dignitaries from around the country, and the jewel itself was praised by everyone who were present.
This astounding feat of workmanship follows Shiv Narayan Jewellers' achievement of 8 Guinness World RecordsTM titles. The stunning artwork is a testament to their precision craftsmanship and exquisite attention to detail. The diamond is inspired by the magnificent idol that lives in the Shri Ananth Padmanabhaswamy Temple in Thiruvananthapuram, Kerala, and depicts every detail of the original. Lord Vishnu is depicted in the same Yoga Nidra (Yogic Sleep) pose as Lord Shiva, with his hand resting on top of a Jyotirlinga (Lord Shiva) and Lord Brahma seated atop a lotus rooted in his navel. The exquisite artwork captures the story of the beginning of time as recorded in ancient Indian scriptures.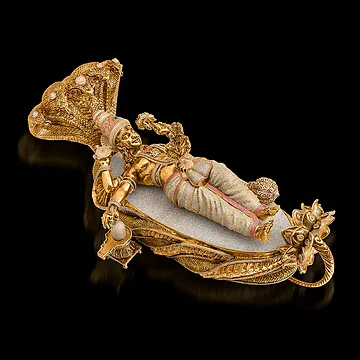 The Shri Ananth Padmanabhaswamy Jewel is more than a jewel; it is 8in in height and an incredible 18in in length. This paragon piece weights an incredible 2.8kg and was handcrafted by 32 individuals working 16 hours a day for two months. Sri Ananth Padmanabhaswamy is adorned with around 75,000 high-quality diamonds totaling an amazing 500 carats. Each diamond has been carefully selected, expertly polished, and expertly placed. It features the best Zambian emeralds and natural Burmese rubies, creating a magnificent, hypnotic aesthetic that reflects heavenly elegance.
Sri Ananth Padmanabhaswamy's breakthrough design is set to set a new global record for the brand, raising their total to an incredible 9 Guinness global RecordsTM Titles. Mr. Kamal Kishore Agarwal, Chairman, and Mr. Tushar Agarwal, Managing Director, designed the piece, which is a real monument to the brilliance of human imagination and the eternal charm of luxury jewellery. While maintaining faithful to the brand's rich Indian traditions, this beautiful item aims to push the frontiers of design and broaden the scopes of workmanship for the entire industry.
Shiv Narayan Jewellers has never disappointed, and this magnificent, brilliant work is no exception. Every item pushes the brand's boundaries, and Shri Ananth Padmanabhaswamy has absolutely exceeded all expectations. This gemstone masterpiece exemplifies the brand's continuing reputation of creating one-of-a-kind pieces of jewellery that blend tradition and contemporary workmanship.
"Sri Ananth Padmanabhaswamy is a celebration of our heritage and dedication to the fine art of jewellery making. We are honoured to have created this majestic piece for Dr. B. Govindan, whose immense contribution to the jewellery industry has been an inspiration for all of us," said Mr. Tushar Agarwal, Managing Director of Shiv Narayan Jewellers. "It is a proud moment for us to witness our vision come to life and we hope to set new records with the piece."
Globally renowned for its unrivalled craftsmanship and unique designs, Shiv Narayan Jewellers is the only Indian jewellery brand to achieve 8 Guinness World Records™ Titles for 4 of their masterpieces: The Ganesh Pendant, The Ram Darbar, The Satlada Necklace & The Magnifying Glass. Based in Hyderabad, the royal luxury brand has paved a path of excellence creating a niche for itself in the industry. Founded by Seth Sri Shiv Narayan Ji, the head jeweller to Mir Osman Ali Khan, the VII Nizam of the Princely State of Hyderabad, it has a rich legacy of royalty. Bound by their values of quality and creativity, the brand is on the forefront of jewellery innovation.