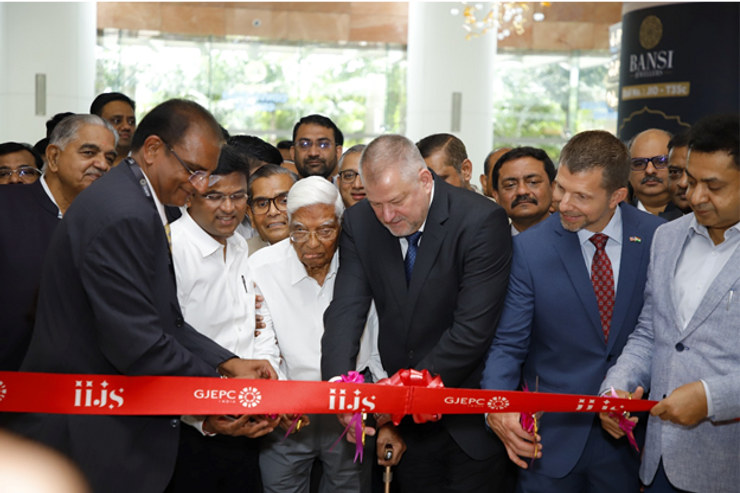 The much-anticipated 39th edition of the Gem & Jewellery Export Promotion Council (GJEPC) IIJS Premiere 2023 begins today in Mumbai. This famous exhibition brings together the gem and jewellery industries for a spectacular display of quality, innovation, and sustainability. The IIJS Premiere 2023 promises to be the largest meeting of domestic and international buyers, providing an unrivalled platform for Indian jewellery manufacturers to connect with retailers and explore product design and demand trends.
This year's IIJS Premiere will be held simultaneously at two locations: the Jio World Convention Centre (JWCC) from August 3rd to 7th, and the Bombay Exhibition Centre (BEC) from August 4th to 8th. These facilities will accommodate 3,250 stalls and 1,850 exhibitors, covering a total exhibition area of 70,000+ square metres.
The grand opening of the show was marked with the gracious presence of Guests of honour Mr. Mike Hankey, Consul General, Consulate General of USA; Dr. Sanjay Mukherjee, IAS, Metropolitan Commissioner, MMRDA; Mr. Paul Rowley, Executive Vice President, Diamond Trading, De Beers Group; Mr. G.R. Radhakrishnan, Managing Director, GRT Jewellers India Pvt. Ltd. along with Mr. Vipul Shah, Chairman, GJEPC; Mr. Kirit Bhansali, Vice Chairman, GJEPC; Mr. Nirav Bhansali, Convener, National Exhibitions; and Mr. Sabyasachi Ray, Executive Director amongst others.
With a record-breaking 42,000 pre-registrations from across India, the reaction to IIJS Premiere 2023 has been phenomenal. Over 2,000 people from over 65 nations will attend the event, including the United States, United Kingdom, United Arab Emirates, Australia, Canada, New Zealand, Fiji, Saudi Arabia, Qatar, Iran, Muscat, Italy, Bangladesh, Bahrain, Kuwait, Germany, Turkey, Singapore, Thailand, Vietnam, Cambodia, Sri Lanka, and many more. Delegations from 16 countries are among the eminent guests, raising the event to unrivalled worldwide prominence.
"Last year, the show generated business worth 50,000 crore, and with the current trend of a 30% increase in visitor footfalls, we are optimistic about achieving at least 30% to 40% growth in business," said Mr. Vipul Shah, Chairman of GJEPC. More exhibitors and visitors equals more business opportunities. Furthermore, market conditions are encouraging, with stable gold prices and robust economic growth in India and neighbouring regions such as the Middle East. The market has stabilised after some initial hurdles. Given the fantastic feedback we have gotten thus far, I believe IIJS Premiere 2023 will break all previous business records. This will be our most profitable concert to date."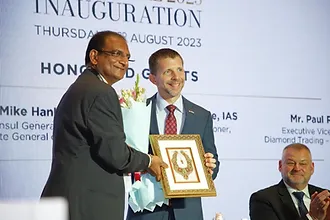 "Like the rest of the world, the United States recognises the staggering potential of the Indian economy to bring prosperity to all of its citizens and world partners," stated Mr. Mike Hankey, Consul General, Consulate General of the United States. I applaud individuals in the gem and jewellery sector who are doing so much to broaden that prosperity by hiring and advancing people from marginalised communities and women into top positions on their teams. The United States recognises the diamond manufacturing industry's significant importance to India, as well as its enormous contribution to employment, which I have personally witnessed."
"India was already one of the world's top markets, but it has also been the fastest growing major market this year," stated Mr. Paul Rowley, Executive Vice President, Diamond Trading, De Beers Group. The number of middle-class households is predicted to increase by 30 million in the next decade alone, which is over 15 times the current population of Botswana. It is obvious that the Indian landscape will provide an ideal foundation for expansion."
"Provenance and lab grown diamonds are two of the most important trends we see in De Beers." In terms of provenance, we're seeing an increasing interest in where diamonds originate from, and maybe more importantly, the influence they have on the people and places they pass through on their way to the customer."
"It's not surprising that natural diamonds at LGDS are rapidly diverging from one another." In such a changing climate, the key to understanding how to capitalise on that opportunity is once again analysis."
Mr. Nirav Bhansali, Convener, National Exhibitions, GJEPC, announced the "One Earth" initiative's success, "With the launch of the 'One Earth' initiative at the beginning of this year, GJEPC has embarked on a transformative journey towards environmental sustainability." Today, we are pleased to say that the project has exceeded our expectations, with 1 lakh trees planted. This incredible achievement not only has a favourable environmental impact, but it has also generated an astounding Rs. 100 crore for marginal farmers, supporting vigorous economic growth in rural communities. Furthermore, our united efforts will result in a decrease of 40,000 tonnes of CO2, the production of an amazing 67,000 tonnes of critical oxygen, and the creation of 220 acres of lush green cover, fostering biodiversity."
Recognizing the labor-intensive character of this industry, the government has taken many initiatives to increase exports. The new e-commerce policy, according to Shah, promises to promote retail exports, opening up exciting opportunities for growth, while Strategic Free Trade Agreements (FTAs) with the UAE and Australia have facilitated international trade. In the near future, the Ministry expects to finalise a few of other FTAs.
Shah stated that the cooperation of the Ministry of Commerce and Industry resulted in the development of a Mega Common Facility Centre (CFC) in SEEPZ, while the Maharashtra Government supported the establishment of a Jewellery Park in Mumbai. The India Jewellery Park Mumbai is expected to be a game changer, propelling the gem and jewellery sector in Maharashtra to new heights. The Park will greatly assist to the growth and expansion of the Indian jewellery sector through its integrated strategy, cutting-edge infrastructure, and extensive support services. It is expected to create one lakh jobs in the sector. These programmes indicate both the federal and state governments' commitment to fostering the growth of this vibrant industry. With such strong government backing, our industry shines with newfound vigour, set for even greater success in the future, added Shah.
In September, GJEPC will organise the India expo alongside the Hong Kong expo, providing a useful platform for Indian gem and jewellery enterprises to showcase their wares to foreign buyers.
Another GJEPC project is the India Jewellery Exposition (IJEX) Centre in Dubai, which serves as a one-stop destination for the world to source Indian jewellery. This 365-day exhibition platform will showcase certain categories of 'Made in India' gems and jewellery, cementing India's global market leadership.
The United States accounts for 33% of India's gem and jewellery exports. However, with the termination of India's GSP (Generalised System of Preferences) designation by the United States, exports of around 45 gem and jewellery items that were formerly duty-free are now subject to duties in the United States. Shah asked the US Counsel General to look into the matter, hoping to create a climate conducive to the two countries' mutually beneficial trading partnership.
In the presence of Mr. Paul Rowley, Executive Vice President, Diamond Trading, De Beers Group, Shah stated that there is a need to increase general diamond promotion. De Beers and GJEPC share a vision of improving diamonds' overall appeal and desirability. We can harness our collective knowledge and resources to create compelling marketing campaigns that resonate with customers all around the world, cultivating a deeper respect for diamonds as valued symbols of love, beauty, and eternal worth, he added.
The IIJS Premiere 2023 is scheduled to make history by going fully paperless. Attendees can now enjoy the pleasure of totally digital badges, taking a huge step towards eco-consciousness while embracing sustainability and convenience.
For the first time, IIJS is launching a programme called Innov8 Global, which will facilitate personalised product-specific matchmaking between international buyers and manufacturers. This cutting-edge technology seeks to improve corporate relationships and develop fruitful connections like never before.
Retailers, prepare to enjoy the "Prime" Visitor Package, which includes VIP access to the event! This package promises to take your experience to the next level with priority access, a high-speed WiFi zone, a dedicated Prime Lounge, and a customised Help Desk.
The gems and jewellery industry is preparing for an unprecedented event, exhibiting exquisite craftsmanship, cutting-edge designs, and a dedication to environmental sustainability, as the curtains rise on IIJS Premiere 2023. We are excited to welcome you to this extraordinary spectacle!
Prepare to be astonished by an incredible presentation of 500 exhibitors occupying 700 booths, presenting a beautiful selection of diamond, gemstone, and studded jewellery, including gold and gold CZ studded jewellery, at the Jio World Convention Centre (JWCC). Furthermore, JWCC has exclusive sections dedicated to loose diamonds, lab-grown diamonds in both loose and jewellery forms, laboratories, and diamond and loose stone education.
In keeping with its dedication to sustainability and convenience, IIJS Premiere 2023 has made a significant step towards environmental awareness by going totally paperless. Attendees can benefit from the convenience of entirely digital badges, which make participation both easy and environmentally sustainable.
The organisers have gone above and beyond to assure the comfort and convenience of both exhibitors and guests, arranging an incredible 10,000 room nights spread across 25 hotels.
Attendees may look forward to the highly anticipated innov8 seminars at both sites – JWCC and BEC – which will offer fascinating conversations on the industry's newest trends and innovations. Furthermore, IIJS Premiere 2023 celebrates the industry's future leaders with its "40 under 40" programme, which recognises remarkable potential and the best of the best.
At the IIJS Celebration Night, which honoured the industry's successes and efforts, the IIJS honoured major retailers and industry icons, paying tribute to the truly shining stars of the gems and jewellery world.
The exclusive "Prime" Package, which allows VIP access to the exhibition, offers priority entry, access to a high-speed WiFi zone, a dedicated Prime Lounge, and a separate Help Desk, raising the total experience to the next level.
IIJS Premiere 2023 continues to astound with its impressive statistics and offerings, bringing together the world's gems and jewellery sector in a glittering extravaganza that shows the very best in workmanship, innovation, and worldwide connections.