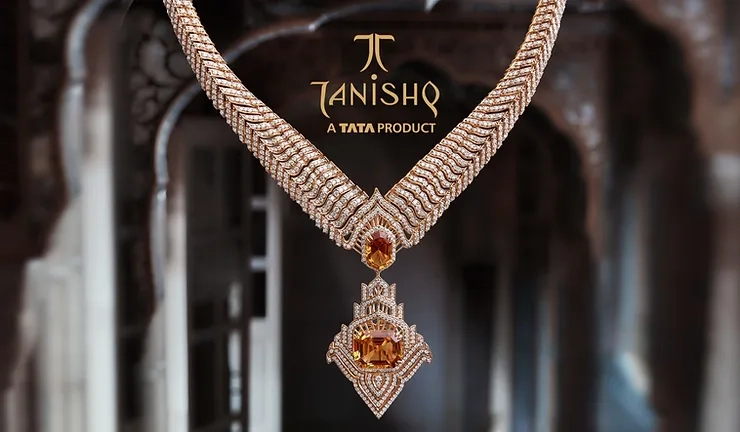 Tanishq, India's leading jewellery retail brand from the Tata family, has launched an extraordinary collection of rare and valuable diamonds, as well as coloured gemstones – 'Tales of Mystique' – inspired by the architectural splendour of Rajasthan's palaces and cityscape. Tanishq takes satisfaction in announcing its great premiere at Paris Haute Couture Week, Fall-Winter 2023-24, in collaboration with famous Indian designer Rahul Mishra.
Every piece of jewellery captures the intricacies of these architectural marvels and tells the story through the eyes of a young traveller who has heard these legends and has come to visit the palaces of Rajasthan in all their glory. Tanishq has reinvented this in 60 pieces of stunning jewellery.
The series honours artists as the personification of artistic expression, expertly integrating one-of-a-kind craftsmanship with technical prowess to bring creativity to life. Tanishq and Rahul Mishra have formed a synergy that transcends traditional borders and brings Indian history to the international fashion landscape by fusing jewellery and haute couture.
"This collection marks another milestone in Tanishq's journey to be the preferred jeweller for the connoisseur who is well-traveled and seeking to add to her repertoire," stated Ranjani Krishnaswamy, General Manager, Marketing-Tanishq. The goal of 'Tales of Mystique' and Rahul Mishra's 'We, The People' is to redefine Indian fashion by bringing together delicate craftsmanship and contemporary silhouettes. Our Muse is the modern Indian woman, with her diverse jewellery options, interest in elegant vintage, and intuitive taste in art."
Garima Maheshwari, Tanishq's Head of Design, commented on the collection, saying, "With Tales of Mystique, Tanishq offers an ode to the spirit of Rajasthan with a new line of high-end statement jewels that boast of colour, culture, and refined aesthetic." The collection tells the stories concealed in the stunning architectural elements of Rajasthan's towering palaces, attractive forts, and exotic cityscapes. It is inspired by the beautiful hues of magnificent Rajasthan and is infused with rich themes and exquisite details that are unique to this location.
Each jewel has been painstakingly crafted in three dimensions and sculpted forms to bring alive the architectural beauty with the use of contemporary silhouettes and colour combinations while preserving the true essence of the era gone by and having an enchanting story to tell!
The series features a unique design, semiprecious colour stones, and brilliant and fancy cut diamonds set in 18kt gold.
The line honours outstanding craftsmanship and design while keeping in mind today's discerning, mindful women with developing tastes and their desire to own statement items as distinct as their personalities. It's deliberately designed to fit the woman's lifestyle, decorating her as elegantly in a saree as it does in a gown or a dress.
"It makes me glad and proud to be joined by 'Tanishq' this season as a jewellery partner for our Couture Fall 2023 showcase at Haute Couture Week in Paris," Rahul Mishra stated of the relationship. I applaud and admire their massive cultural effect as one of the largest in its field in India. Their exceptional craftsmanship and competence in jewelry-making, as well as their attempts to promote India's indigenous artisan communities, are unparalleled and in line with the underlying philosophy of the brand Rahul Mishra."