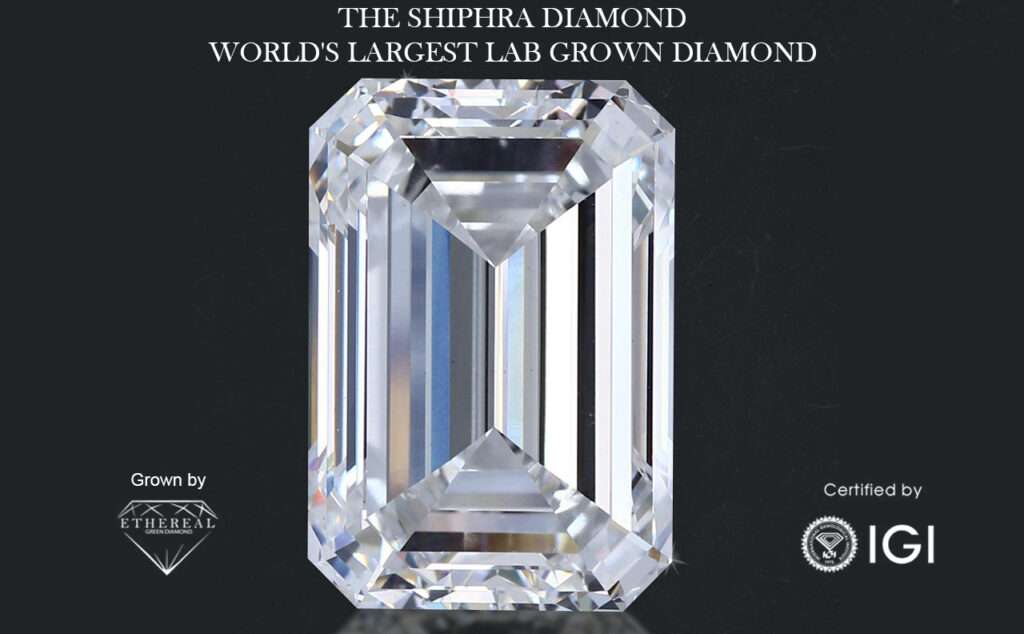 The International Gemological Institute (IGI) analysed and certified a 50.25 carat polished lab produced diamond, the first to exceed the landmark 'half-century' carat weight threshold. This newly formed gemstone, created by Ethereal Green Diamond LLP (Ethereal Green), signifies a watershed moment in the lab grown diamond business.
The 50.25 carat lab grown diamond, dubbed 'Shiphra,' is a Type IIa emerald cut measuring 22.95 x 18.45 x 11.57 millimetres and boasting G colour, VS2 clarity, and Excellent cut, polish, and symmetry. Chemical Vapour Deposition (CVD) was used to grow the crystal from which it was polished over an eight-month period. It will be on display at Ethereal Green's booth # 8135 at JCK Las Vegas.
"As the pioneer of lab grown diamond grading, IGI is honoured to certify milestone achievements," Tehmasp Printer, President and Managing Director of IGI India, noted. "This gemstone is a paradigm shifter, exceeding 50 carats while exemplifying preeminent standards of sophistication and quality." We are thrilled to be able to see and support the incredible advancement and popularity of lab-grown diamonds that IGI promoted 18 years ago by opening our doors to the world's manufacturers."
"We are immensely proud to introduce the world's largest lab-grown diamond," said Hirav Anil Virani, Managing Director of Ethereal Green, of the remarkable feat. The acclaimed International Gemological Institute certification confirms the authenticity and purity of this 50.25 carat diamond. We feel that IGI's stringent grading standards and expertise provide the assurance and confidence that consumers and industry professionals desire when making large diamond purchases."
Ethereal Green has been in the vanguard of achievements in the lab produced diamond market, using cutting-edge technology to create sustainable, ethically sourced diamonds of significant size and quality. Their 50-carat milestone comes just one year after they created the 'Pride Of India,' the world's first polished lab-grown diamond weighing more than 30 carats. The company is a pioneer in responsible diamond creation, with SCS Global sustainability accreditation.
"This magnificent diamond represents the culmination of our team's relentless pursuit of excellence," said Virani. "We hope to redefine the perception of lab-grown diamonds by pushing the boundaries of what is possible." Ethereal Green's commitment to environmentally friendly practises assures that each diamond produced is not only physically appealing but also ethical."