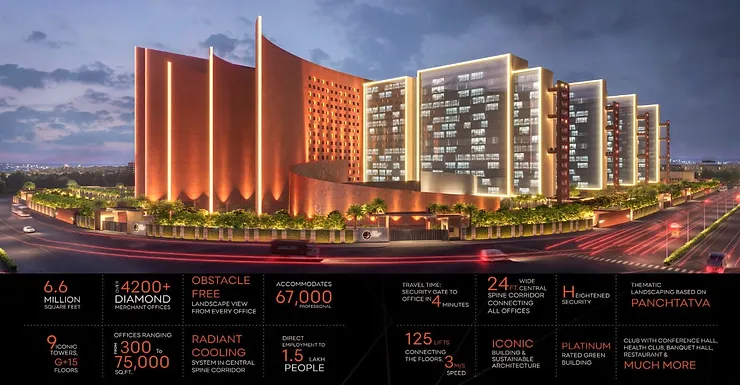 This month, Prime Minister Narendra Modi will open the new Surat Diamond Bourse in Khajod, Surat, which is slated to be the largest corporate facility in the world.
The SDB was constructed by the Khajod Development Authority and the Diamond Traders' Association. Mumbai will be replaced by Surat as the hub of India's diamond commerce.
The Surat Diamond Bourse combines an effective environmental idea with a high-density commercial architecture. The statement "The chakra of the Universe revolves within Panchtatva" is supported by mythological truths. When in equilibrium, the amazing five natural elements—Air, Water, Fire, Earth, and Sky—bring about peace, prosperity, happiness, and success.
The trading hub, said to be 6.7 million square feet in size, was apparently constructed on 35.54 acres of land. SDB is made up of nine towers, each measuring 81.9 metres high and having 15 storeys. It features 4,500 offices and a 20 lakh square foot parking lot.