Virginia Drosos, CEO of Signet Jewellers, is pictured at the GJEPC headquarters with members of the Signet delegation Roie Edelman, Jamie Singleton, and Joan Hilson, as well as Vipul Shah, Georg Leifheit, and Sabyasachi Ray.
Signet Jewellers CEO Virginia Drosos spoke exclusively with Solitaire during her recent trip to Mumbai for a meet-and-greet with Indian supply chain partners. She acknowledged the challenges and general economic climate affecting US demand for diamond jewellery and believed that working with partners was essential to navigating changes and offering customers high-quality goods. She emphasises that these challenges are ending, with an increase in engagements anticipated over the following three years beginning in November. She also discusses issues like lab-grown diamonds, the US banking crisis, and the separation of Russian gems, among others.
Roie Edelman, Chief Diamond Officer, R2net, jamesallen.com, bluenile.com, Jamie Singleton, President, Kay, Zales, Peoples, and Chief Marketing Officer; Joan Hilson, Chief Financial Strategy & Services Officer; and Georg Leifheit, Vice President Global Strategic Sourcing made up the delegation that Drosos was in charge of. Vipul Shah, Chairman, GJEPC; Anoop Mehta, President, BDB; Kirit Bhansali, Vice Chairman, GJEPC; and Sabyasachi Ray, Executive Director, GJEPC presented awards to her and her team.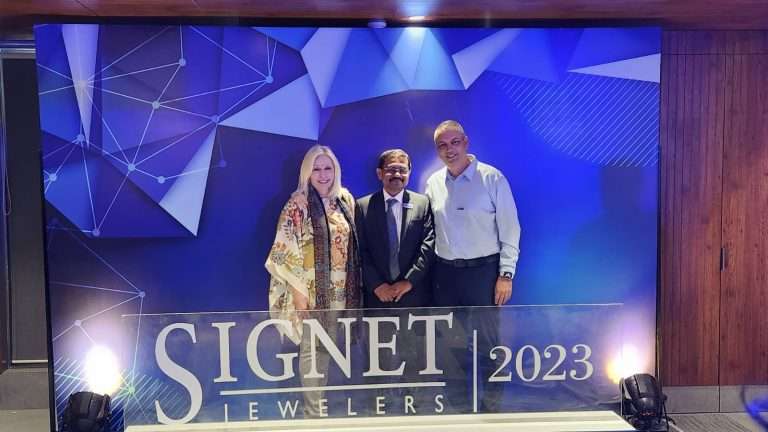 The largest retailer of diamond jewellery in the world, Signet Jewellers may also be the top importer of diamonds and studded jewellery from India. Under the names of Kay Jewellers, Zales, Jared, Banter by Piercing Pagoda, Diamonds Direct, Blue Nile, JamesAllen.com, Rocksbox, Peoples Jewellers, H. Samuel, and Ernest Jones, the firm runs about 2,800 stores.