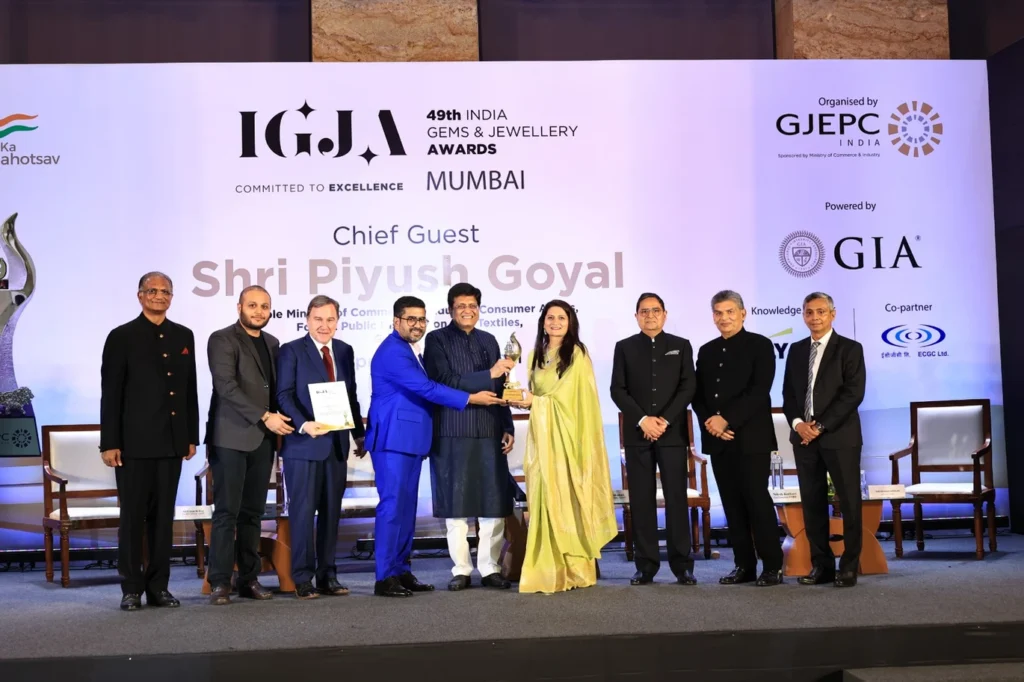 Precious Metal Jewellery – Studded Exports (Medium) was won by H.K. Designs (India)LLP, while Precious Metal Jewellery Exports – Plain & Studded (SME) was won by H. K. Jewels Pvt. Ltd. Chief Guest Shri Piyush Goyal, Honourable Minister of Commerce and Industry, Consumer Affairs, Food and Public Distribution, and Textiles, presented the awards. Numerous leaders in the industry and dignitaries attended the occasion.
For H.K. Designs(India) LLP, Mr. Hasu Dholakiya, Mrs. Hiral Dholakiya, and Mr. Divyang Riziya accepted the awards. For H. K. Jewels Pvt. Ltd., Mr. Parag Shah accepted the award with Mrs. Hema Shah, and Mr. Hitarth Dholakia accepted it with Mrs. Purva Dholakia. The organization's dedication to leading the industry with excellence and tenacity is demonstrated by this accolade.
The founder and managing director of Hari KrishnaExports Pvt Ltd, Mr. Ghanshyam Dholakia, expressed his thanks for winning the award and said, "It is a wonderful honour and a source of pride for us to receive such important accolades in different categories. We greatly appreciate the Gem and Jewellery Export Promotion Council honouring the hard work and perseverance of the Hari Krishna Group. This award is proof of our ongoing efforts in this area, and we'll keep giving our clients the best service possible.
Winning the India Gem & Jewellery Award demonstrates the quality, originality, and perfection that H.K. Designs, a division of the Hari Krishna Group, and H. K. Jewels, the parent business of Kisna Diamond & Gold Jewellery, bring to their clients.