The stars of a stunning new collaboration between Gemfields and The Line fine jewellery label are Mozambican rubies and Zambian emeralds. The Line x Gemfields Songbird Collection is both a tribute to Indian customs, history, and artistry and a means of bringing the high-fashion attraction of gemstones into the daily.
The songbird's call, like the distinctive silhouette of great Indian jewels, has survived the millennia. Each songbird, though, has its own distinct voice. In this spirit, The Line presents its current collection: a modern interpretation on a well-known silhouette of popular Indian jewellery.
Songbird is inspired by historical Indian jewellery silhouettes, such as crescent-shaped hoops, string necklaces, and blossoming earpieces, as well as shoulder-dusting chandelier earrings and regal chokers fashioned of 18k yellow gold. The majority of the items combine coloured gemstones with delicate pearls for an unmistakably Indian aesthetic that is both time-honored and modern.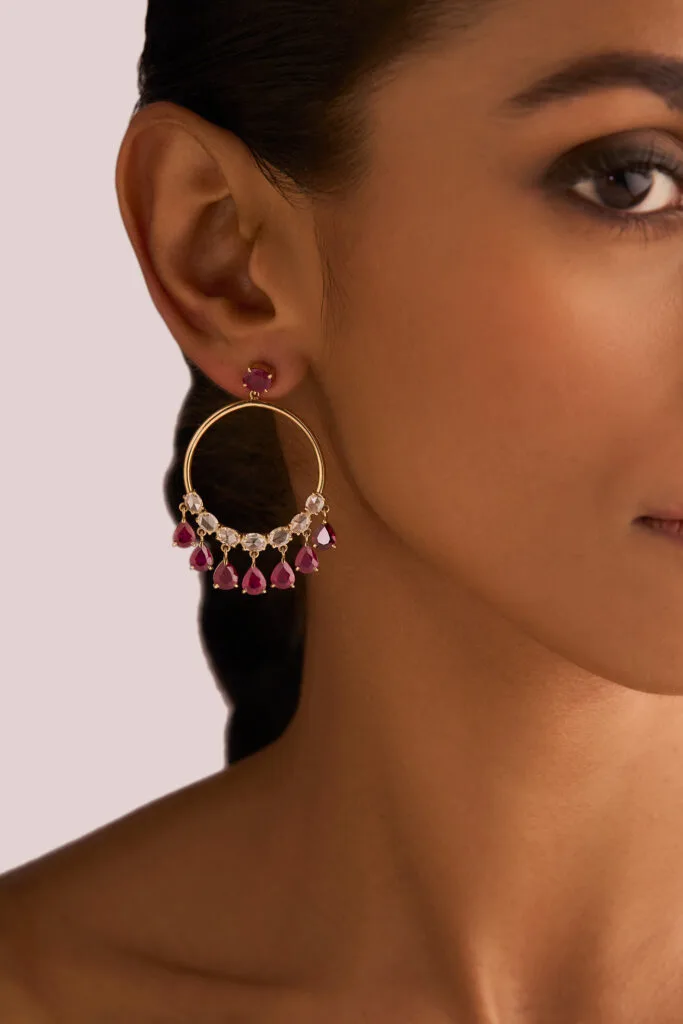 Each design features vivid rubies from Mozambique's Montepuez mine or green emeralds from Zambia's Kagem mine. Gemfields, a world-leading miner of coloured gemstones with responsible practises at its core, owns and operates both mines, making the company a logical partner for The Line.
Natasha Khurana, a fashion journalist, launched The Line as a jewellery line in 2015 after being inspired by the arresting beauty of loose gemstones. Natasha is a fashion, art, history, and literature enthusiast who is always inspired by her surroundings, particularly India and its legendary legacy of jewellery manufacturing.
"I remember the first time I saw gems, in a packet, loose, unadorned," she says of the moment she discovered she wanted to work with coloured gemstones. The fire and colour of rubies and emeralds! I had a heart attack. The allure of gemstones drove me to a profession in jewellery. When it comes to jewels, I believe we need to do very little: when they are this gorgeous, they speak for themselves."
With Songbird, Khurana approaches the "weighty legacy of Indian jewel-making and wearing" with levity, embodying the spirit of the Indian people, who have for generations thought nothing of adorning the most costly items every day in abundance.
This is a custom that may be found in religious paintings and archive images of Indian royal courts. With colour being an intrinsic part of Indian life and rubies and emeralds being long respected in India, colourful gemstones from Gemfields are a perfect fit for Khurana's selection of wearable jewels.
"Watching the Indian sun dance through these Zambian emeralds and Mozambican rubies, bringing them to life in Natasha Khurana's elegant creations, is a true delight." This collection celebrates the adaptability of colourful stones, which are equally appealing in a whimsical ear climber as they are in identifiable forms like the decorated hoops. "The Line perfectly marries wearability with a charismatic twist and an elegant simplicity, elevated by the entrancing flicker of dancing coloured gemstones," said Emily Dungey, Gemfields head of marketing and communications, at the launch event at Mumbai's Soho House.