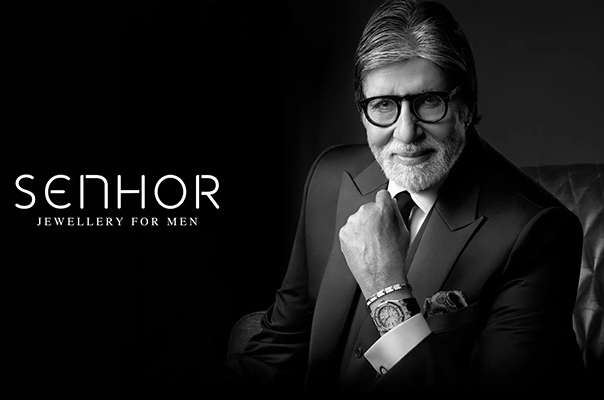 This November 19th, when the world comes around to celebrate Men, it is important for us to think of the missing link that will shine bright for a man on a gloomy day. Men have historically had a strong affinity for jewellery, sometimes even more so than women.
The royalty of India, had forever ruled basked in opulent jewellery made of the most precious metals and gemstones. So gifting a Man a shiny piece of jewellery for this International Men's Day Kalyan Jewellers present Senhor men's jewellery collection that, should be an ideal choice.
Jewellery encompasses the art of self-expression, wherein the possibilities are boundless. For many years women have solely enjoyed the pleasure of owning and adorning exquisite jewellery, it is about time men get into the fun of it as well
Although the formal world had long shunned opulent jewellery, especially on men, India has always maintained a vast range of traditional men's jewellery that is often sighted as beacons of status and masculinity. In recent years though men's jewellery has rapidly evolved with new styles coming in vogue. Senhor is an exquisite men's jewellery collection from Kalyan Jewellers.
Single stringed chains studded with diamonds, pearls are popular among men especially in North India. Similarly Muthumalai, with small beads of gold, rudhraksh, Tulsi housed traditionally in a gold chain is a South Indian favourite. The kada is a bracelet commonly worn by Indian men. Kadas are a form of bangle made of gold or silver with an enameled inner plate, featuring animal and floral motifs.
The most popular amongst men's jewellery choices would perhaps be the Cuban link chains that are worn by men across cultures and geographies. An inspired Indian version of the same, would be the Sachin chain, the design of which was popularized by cricketing legend Sachin Tendulkar.
Considering the expressive quality of jewellery, rings might just be the way to go. From simple bands of gold or platinum to intricately designed motif rings that shine your personality through is an essential addition to your wardrobe.
For the more artistic sort, earrings and studs can be that missing link that pops your vibrant personality out. One can also choose across a variety of gemstones and diamonds studded earrings to match your personal style.
Bracelets prove for a versatile choice, with a myriad customisable possibilities. Mixing and matching styles, choosing across base metals, adding gemstones, they can truly be personalized to one's specific liking.
And for those with an eye for detail, cufflinks add that transformative elegance to a dress shirt. Cufflinks are statement pieces that highlight your likeness for the finer things in life.
And so as we celebrate World Men's Day, let's remember that jewellery is not limited by gender. Jewellery celebrates an individual, his choices, traits and qualities. It brings out the glimmering light that lies within each man. And so gentlemen choose the right jewellery to shine a little brighter. Let your Jewellery narrate your story and show the world what a unique person you are.