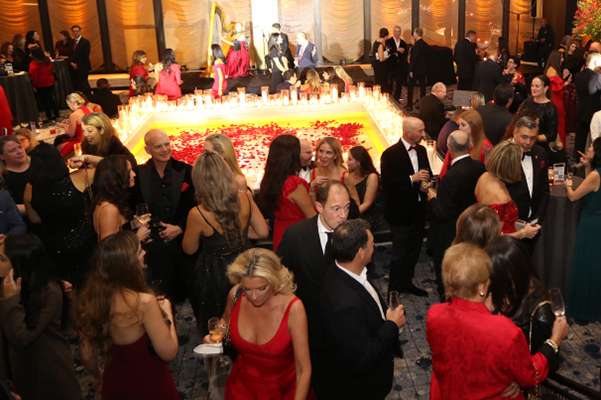 The Women's Jewelry Association (WJA) celebrated a milestone during the WJA Ruby Gala on November 2nd, 2023, held at the Pool in illustrious Seagram Building in New York City. Commemorating four decades of dedication to empowering women in the jewelry and watch industries, the gala delivered an evening of unparalleled elegance, entertainment, and philanthropy.
The Seagram Building, an emblem of refinement and architectural brilliance, provided a breathtaking backdrop for the evening's festivities. Guests were welcomed with a candle lit red-carpet entrance, capturing their finest moments through the lens of Sean Zanni /Patrick McMullan via Getty Images. The interior exuded an air of timeless glamour, setting the stage for an enchanting night ahead.
"The most beautiful part of the evening was seeing WJA members, leaders, founders, and friends celebrating old friendships and forging new ones.  When we come together as an industry, we do great things, we create opportunities, and we continue to build our legacy. Thank you all for your support and your presence at our 40th Anniversary Gala.  
The work we do raising funds for the association and foundation non-profits is powerful, meaningful, and the key to a brighter future.  As we look to 2024, your support remains pivotal to reach more members. Please join us as a member, corporate member, or angel sponsor!" says Susan Chandler, WJA President and Chief Merchandising Officer for Citizen Watch America.
"We are very grateful to all that came out to celebrate this significant milestone. The energy and the spirit of generosity demonstrated by leaders in our industry further illuminates they believe in all that the WJA does to provide meaningful networking, professional development, and financial support to women in our industry.  
'Belief' is a powerful motivator, and it was evident in the funds raised for the foundation that the industry truly believes in all that we do," says Gabrielle Grazi, President of the WJA Foundation and VP, Head Retail Strategy and Partnerships, Natural Diamond Council.
The Women's Jewelry Association would like to extend heartfelt thanks to its gala sponsors: De Beers, Jewelers Mutual, Citizen Watch America, GIA, Elias World Media, JCK, Krainz Creations, Platinum Guild International, Stuller, The Centurion Jewelry Show, BOSS Logics, Chrysmela, Goldstar, Heritage Auctions, Instore, Lux, Bond & Green, Marco Bicego, Richline Group, Sheetal, Uni-Design, V&A Group, and Casadevall Group.
The WJA 40th Anniversary Gala not only celebrated the organization's achievements but also raised critical funds to support women in the jewelry and watch industries. The gala was a testament to the enduring impact of WJA in advancing and empowering women professionals in the field.