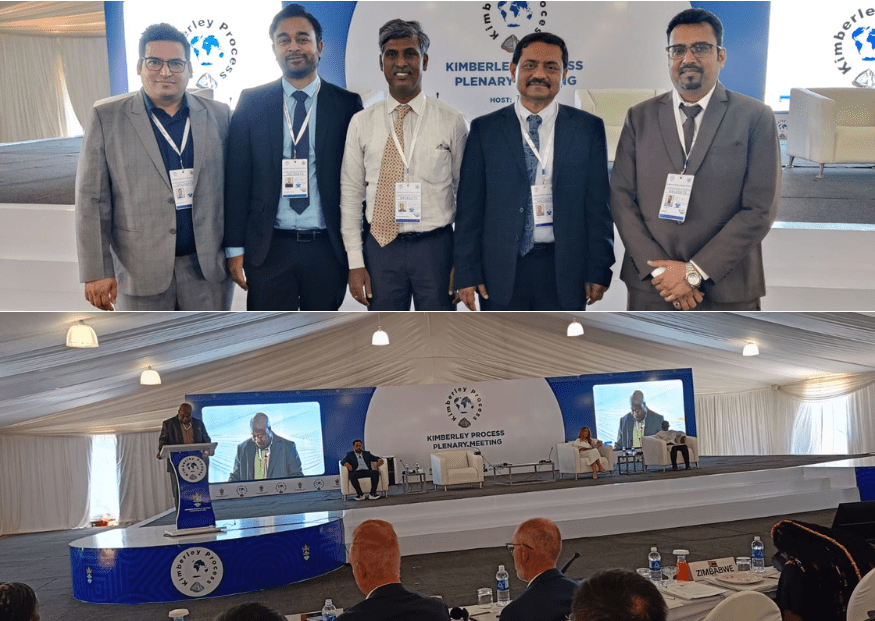 From the 6th to the 10th of November 2023, an Indian delegation will attend the Kimberley Process (KP) Plenary meeting in Victoria Falls, Zimbabwe. The KP is a global initiative aimed at preventing the trade of conflict diamonds, which are used to fund wars and human rights violations.
Mr. R. Arulanandan, Director, Department of Commerce, Government of India, leads the Indian delegation. Mr. Sabyasachi Ray, Executive Director of GJEPC, Mr. Rajat Wani, Assistant Director of GJEPC, Ms. Jilpa Sheth, Consultant, Mr. Shashank Upadhyay, Sr. Manager of GJEPC, and Mr. Abhizar Bootwala, Sr. Manager of GJEPC accompany him.
The KP Plenary meeting is a yearly assembly of KP members, observers, and representatives from civil society. Zimbabwe, the Chair of the KP for 2023, is hosting it in a hybrid format: online and in-person at Victoria Falls.
India was a founding member of the KP and served as its Chair in 2008 and 2019. India has actively participated in KP events and initiatives such as the Peer Review Mechanism, Working Groups on Statistics, Monitoring, Diamond Experts, and others.
The Plenary will discuss the KP's progress and challenges in guaranteeing the global diamond trade's transparency and accountability. It will also examine the KP's future orientation and changes, including as expanding its scope and definition of conflict diamonds.