Czech Republic-based manufacturer of CZ colored stones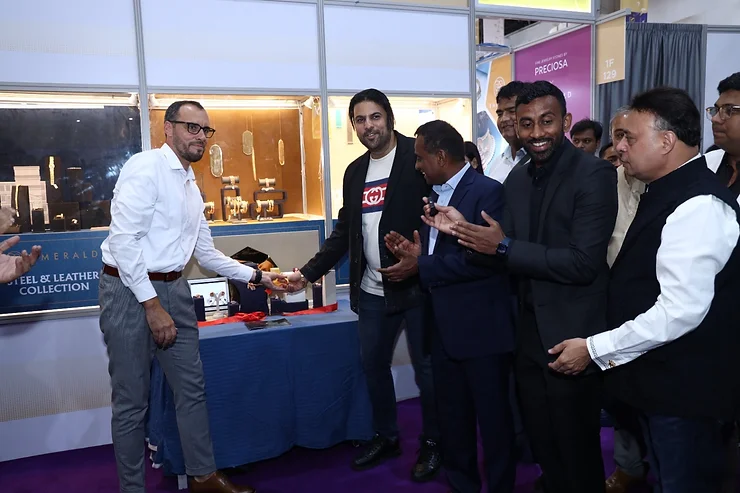 Emerald Jewel Industry, a well-known brand in the jewelry production industry, is happy to announce its collaboration with Preciosa, a top-tier Czech company that produces CZ color stones. The eagerly awaited debut ceremony was held at Mumbai's esteemed India International Jewellery Show (IIJS) expo.
An innovative partnership between two industry titans, Emerald Jewel Industry and Preciosa, was on display that evening as they worked together to create an exceptional mix of craftsmanship and innovation. The partnership was formally launched at the IIJS by Mr. Srinivasan, Chairman and Managing Director of Emerald Jewel Industry, and Mr. Dhiaan Srinivasan, Director of Emerald Jewel Industry, as well as an esteemed team from Preciosa, consisting of Mr. Jan Stiller, Director of Sales and Marketing, Mr. Lubos Petrzilka, Head of Sales for SE Asia, Mr. Michael astn, Senior Press Officer, and C.V. Sun
For many years, the Emerald Jewel Industry has been admired for its dedication to excellence, top-notch materials, and stunning designs. The company is enhancing its services by combining the excellent CZ color stones created by Preciosa through this strategic relationship. These stunning gems, known for their brilliance and vibrant range of colors, will now be a crucial component of the jewelry designs made by Emerald Jewel Industry.
Industry colleagues, the media, and attendees all expressed enthusiasm for the collaboration announcement during the IIJS expo.