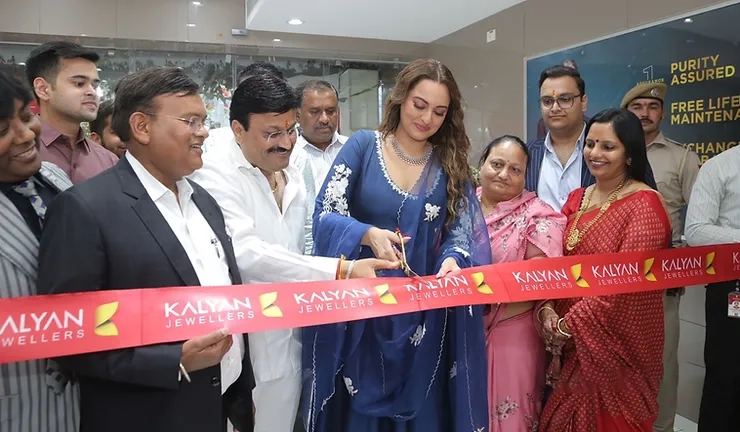 Crowds gathered in Patiala to catch a glimpse of Bollywood actress Sonakshi Sinha during the inauguration of Kalyan Jewellers' shop in Patiala. With this launch, Kalyan Jewellers expands its presence in Punjab, reaching 7 significant markets in the state. The new boutique, which was inaugurated by Bollywood diva Sonakshi Sinha, promises a premium shopping experience with a wide range of fine jewellery creations. To support its expansion and provide customers with simpler access, the company has constantly expanded its brand reach and operations in the region.
"I am delighted to be part of the launch celebrations in Patiala, a city known for its rich heritage and timeless charm," Bollywood star Sonakshi Sinha remarked in her address to the overwhelmed audience. I feel incredibly proud to be standing here today in my capacity as a representative of Kalyan Jewellers, a company that continually innovates the Indian jewellery market. The delicate craftsmanship and beautiful aesthetics of the brand's stunning jewellery creations, which honour India's rich cultural past, are what make them so brilliant. This spectacular store is a monument to the brand's unwavering commitment to provide its customers in the area the best possible shopping experience. Customers will unwaveringly embrace and support Kalyan Jewellers, I'm sure of that.
Ramesh Kalyanaraman, Executive Director of Kalyan Jewellers, commented on the new showroom by saying, "As a business, we have accomplished key milestones and made great advances in developing a comprehensive ecosystem to enhance the client shopping experience. We are thrilled to announce the opening of our new Patiala showroom. We are devoted to giving our consumers the greatest possible shopping experience while adhering to the company's core principles of trust and transparency as we move into the next chapter of our business journey and steadily increase our geographic presence in the state of Punjab.