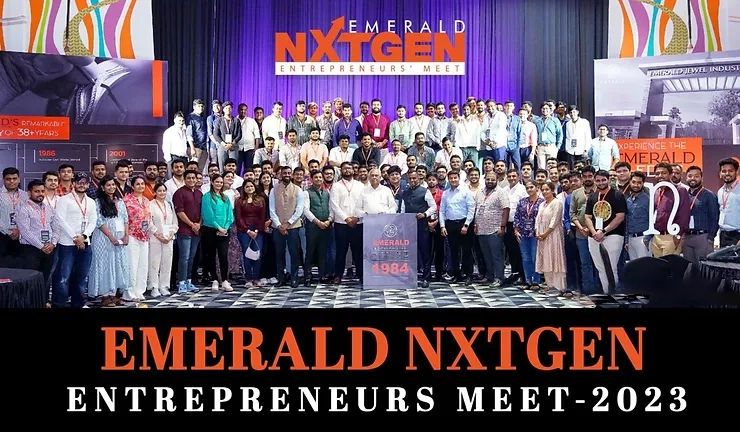 India's leading jewellery Manufacturing Company, Emerald Jewel Industry, hosted the NextGen Entrepreneurs' Meet to Inspire and Empower Young Entrepreneurs.
Emerald Jewel Industry, the forerunner of India's jewellery manufacturing sector, conducted its NextGen Entrepreneurs' Meet on the 5th and 6th of July 2023 at Coimbatore. This unique event sought to connect with the future generation of entrepreneurs by sharing vital insights and expertise accumulated through years of experience.
Mr. K. Srinivasan, the respected Managing Director of Emerald Jewel Industry, held a series of interactive sessions at the NextGen Entrepreneurs' Meet. Mr. Srinivasan has played a critical role in developing Emerald Jewel Industry as a global leader in the jewellery manufacturing area over the course of four decades. Mr. Srinivasan imparted essential insights, business secrets, and strategic advice at the event to encourage and guide today's young entrepreneurs.
Attendees were guaranteed an engaging experience as they participated in thought-provoking conversations, networked with industry professionals, and explored the Emerald Jewel Industry's cutting-edge technologies. The NextGen Entreprenuers' Meet established a favourable environment for the exchange of ideas and supported the establishment of a bright and successful future by bridging the gap between experienced professionals and aspiring entrepreneurs.
Emerald Jewel Industry, known for its dedication to quality craftsmanship, innovation, and sustainability, was thrilled to demonstrate its cutting-edge technology at the event. Attendees were able to see firsthand the innovative techniques and processes used in the creation of magnificent jewellery pieces. This interactive event equipped the young entrepreneurs with knowledge about the industry's current trends and innovations, allowing them to stay ahead in the ever-changing jewellery market.
Mr. Srinivasan's final statement, which struck a chord with the audience, was the event's high point. He discussed his entrepreneurial career, underlining the essential knowledge he obtained from his predecessors and mentors. "I stand here today as a testament to the impact of strong mentorship and the wisdom passed down by my forefathers," he remarked. It is now my privilege and responsibility to pass on my knowledge and experience to the next generation of entrepreneurs."