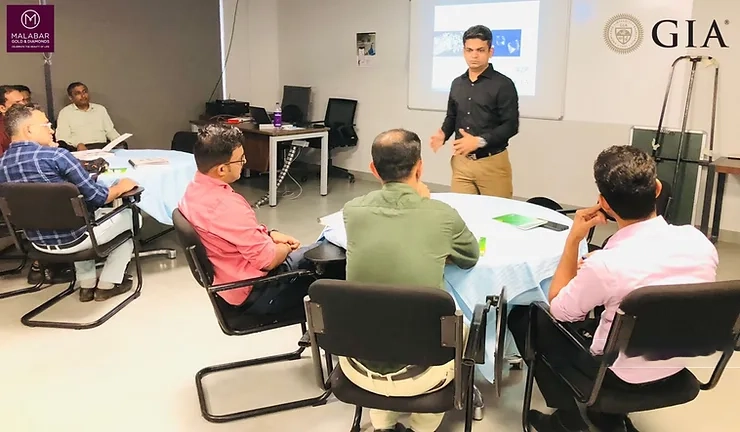 More than 20 Malabar Gold and Diamonds salespeople attended the diamond training workshop.
GIA India delivered a three-day bespoke training programme for Malabar Gold and Diamonds' retail sales employees in Kozhikode, Kerala. The seminar was attended by more than 20 retail personnel from Malabar Gold and Diamonds' flagship store in Kozhikode.
Participants in the training session had hands-on experience grading diamonds using the International Diamond Grading SystemTM and the GIA's 4Cs of Diamond Quality (Colour, Clarity, Cut, and Carat Weight). Furthermore, the training taught participants how the 4Cs effect value and how treatments affect the beauty of a diamond.
"The training programme conducted by GIA India was quite informative, and it will give participants the confidence to interact with customers; indeed, a training well received and a job well done," remarked Jacob Jacob, Group Chief Human Resources Officer, Malabar Gold & Diamonds.
"The learning curriculum was extremely well-structured, and the best part was that participants were able to practically experience everything they learned in real-time." This training has given a lot of value to our business with the inauguration of the Malabar Global Centre of Excellence on May 5, 2023. "Congratulations to GIA India and the instructor," stated Bejoy John, Malabar Gold and Diamonds' General Manager – Learning and Development.
"I've been with the company for nearly ten years, and the training programme provided us with extensive knowledge of diamonds, which was extremely beneficial." "Thank you, GIA India," remarked Shijil K, Malabar Gold and Diamonds' Deputy Manager.
"I am confident in sharing information about the product more aggressively and without hesitation." Thank you, GIA India," Manjith Hashim, Assistant Sales Manager at Malabar Gold and Diamonds, remarked.
"Since its inception in 1931, the Gemological Institute of America (GIA) has worked tirelessly to ensure public trust in gems and jewellery through education, research, laboratory services, and instrument development." As part of our goal, we collaborate with manufacturers and retailers to train their employees using our specialised training programmes. These programmes blend the flexibility of modular delivery with GIA's decades of research-backed curriculum and hands-on practical skills. We admire Malabar Gold and Diamonds' goal of investing in their employees' growth and development in order to give consumers with correct product information." Apoorva Deshingkar, GIA India's Senior Director of Education and Market Development.