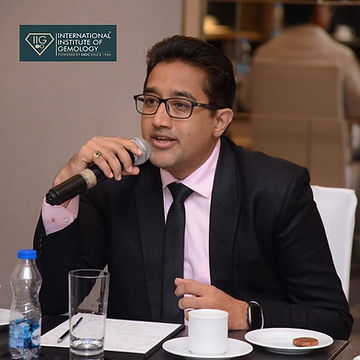 The CEO and MD of the International Institute of Gemology offered 21 scholarships worth 43,000 each (a total of INR 9,03,000) for kids with physical or mental disabilities on Rahul Desai's 43rd birthday. As part of its dedication to CSR, IIG also offers scholarships for high-quality academic and vocational training. As a teacher, mentor, and career expert, Mr. Rahul Desai has a long-term goal of helping worthy kids with impairments and providing possibilities for their improvement. The gem and jewellery industry is urged to support and participate in this admirable cause by directing such gem aficionados to IIG.
Rahul Desai is passionate about education, and his long-term goal is to give worthy kids with mental disabilities access to free chances so they can thrive in society. He wants to give back and provide a platform for the advancement of kids with severe impairments through CSR initiatives. IIG served SPJ Sadhana School in Mumbai from 2008 to 2018 to give education and vocational training to mentally challenged children, empowering them to become self-sufficient. SPJ Sadhana School, their principals, and Ms. Renu Zaveri, HOD Gemology Dept., ignited their desires.
A renowned education centre for gems and jewellery, the International Institute of Gemology, has been around for 58 years. IIG actively engages in Corporate Social Responsibility (CSR), incorporating social and environmental concerns into its operations with a focus on environmental and social responsibility. It is recognised as a leading organisation in the sector, evolving with the times and promoting ethical behaviour.
Through education and training, IIG's CSR helps students who are physically and mentally challenged improve their life. Others are motivated by their dedication. Based on their aptitude and at the discretion of IIG, a select group of students receive training in diamonds, gemstones, or jewellery design.
Rahul Desai concluded by saying, "Making my years count, not counting years! In the Gems & Jewellery education environment, I hope to have a lasting effect and work to build the best and most recognised institute possible. Find these unpolished diamonds in the mines so we can polish and cultivate them.