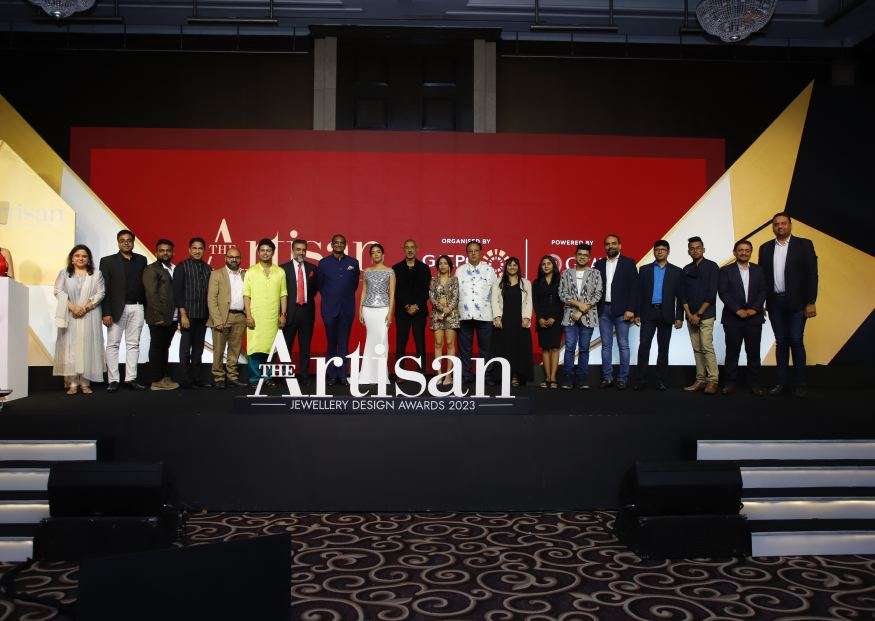 In a grand event held in Mumbai, the Gem and Jewellery Export Promotion Council of India (GJEPC) unveiled the winners of the highly anticipated 6th edition of Artisan Awards 2023, the country's esteemed jewellery design competition. This prestigious event, organized by GJEPC, showcased the exceptional talent and creativity of jewellery designers from across the nation and around the world. Artisan Awards is an endeavour that aims to provide a platform for creative jewellery designers and industry professionals to maximise their individualistic and creative ideas in jewellery design.
Artisan Awards 2023 is powered by GIA Gemological Institute of America, The World's Foremost Authority in Gemology.
The winners received their trophies from Guest of Honour, Ms. Mira Kapoor, Content Creator & Jewellery Connoisseur along with Mr. Nikhil Mehra of Shantnu & Nikhil; Mr. Vipul Shah, Chairman of GJEPC, Mr. Milan Chokshi, Convener of Promotions and Marketing, GJEPC, and Mr. Sabyasachi Ray, Executive Director, GJEPC.
Since its inception, the Artisan Awards has received a total of 4,200 submissions from artists spanning various genres and styles. These submissions were meticulously reviewed and evaluated, culminating in the selection of 178 outstanding finalists. Among the finalists, 55 remarkable individuals emerged as winners, gaining well-deserved recognition for their exceptional artistic prowess. For the current year, Artisan Awards witnessed over 600 entries pouring in from 26 cities across India, as well as from regions abroad, including the Middle East, North America, and Europe. The Artisan continues to attract a diverse range of artists from around the world.
The Theme of The Artisan Awards 2023 was indiamoderne – the world of art meets modern jewellery. The theme was further divided into three distinct categories with each focusing on different genre, namely, Art of Abstraction, Art of Sculpture, and Art of Print.
The judging process of the Artisan Awards involved three phases, ensuring a comprehensive assessment of the jewellery pieces. In the first round, the entries underwent a meticulous technical evaluation, focusing on their craftsmanship and technical excellence. This was followed by a second jury meet, where a panel of esteemed experts deliberated and shortlisted 28 final sketches that showcased exceptional creativity and innovation. In the final phase, the judging panel meticulously examined the 28 shortlisted designs, selecting the top 9 winning pieces that truly stood out in terms of their originality, aesthetic appeal, and ability to push the boundaries of jewellery design.
The esteemed jury members for the Artisan Awards 2023 were Mira Kapoor, Content Creator & Jewellery Connoisseur; Aparajita Jain, Director and Co-owner, Nature Morte Gallery; Priyanka Khanna, Author; Nikhil Mehra, Fashion Designer, Shantnu & Nikhil; Sajil Shah, Jewellery Artist & Founder, Sajjante; Pernia Qureshi, Co-Founder, Saritoria; and Sriram Natarajan, Managing Director, GIA India. Their profound expertise and discerning eye have played a pivotal role in recognizing the exceptional talents among our participants.