In Kozhikode, Malabar Gold & Diamonds will open the largest jewellery showroom in the world, promising a top-notch jewellery shopping experience. The Artistry Store, a brand-new international shopping destination for gold and diamonds, is being built in the same location where the Malabar Group was founded thirty years ago.
On May 7, Panakkad Sayyid Sadiq Ali Shihab Thangal, a social political figure, will formally open the shop. Members of the Malabar family and other sociopolitical luminaries will be there.
As a sign of appreciation for the numerous consumers who have trusted the brand and elevated it to a global leader, the Group has dedicated this magnificent showroom on the Bank Road in Calicut. It will be the largest jewellery store in the world, measuring 1,10,000 square feet, with five floors dedicated to retail and three to parking.
The store will provide customers with a unique shopping experience and an inventive range of services. It includes a special wedding arena where brides can choose their accessories. Customers will be able to personalise their selections with a personalised suite. Another element of the showroom will be a privilege lounge with individualised services, administered by a group of carefully qualified employees.
The shop includes a team of professionals that can inform consumers about the origins, worth, and characteristics of many gemstones. Customers can experience the manufacture of gold and diamonds firsthand in the experience zone, which is set up as part of the showroom. It was designed to be more than just a place to make sales; rather, it is a jewellery tourist destination where visitors can learn about the breadth, variety, and forms of traditional ornament manufacturing and jewellery workmanship. A unique pavilion will be built to display the priceless and antique diamonds, jewellery, and artefacts that have been gathered from all around the world. Additional features of the store include the express billing counter, a sizable selection of lightweight ornaments, and multi-level parking.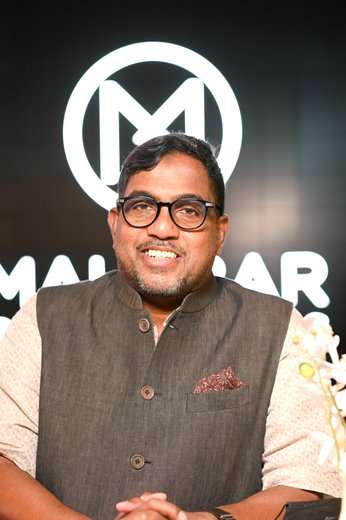 The chairman of the Malabar Group, M. P. Ahammed, described the milestone of 30 years as a historic one in their journey, made possible solely by the customers love and trust. "Their unwavering confidence and support helped us get to where we are now as one of the largest jewellery groups in the world. We are extremely pleased to open our store in the same location where our humbling journey began. This is a key step on our path to becoming the top jewellery retailer worldwide," he said.
Similar Artistry Stores are already operating in Hyderabad, Bangalore, Chennai and Delhi. Work is in progress to set up 20 more such stores in other prominent cities in the country, he added.