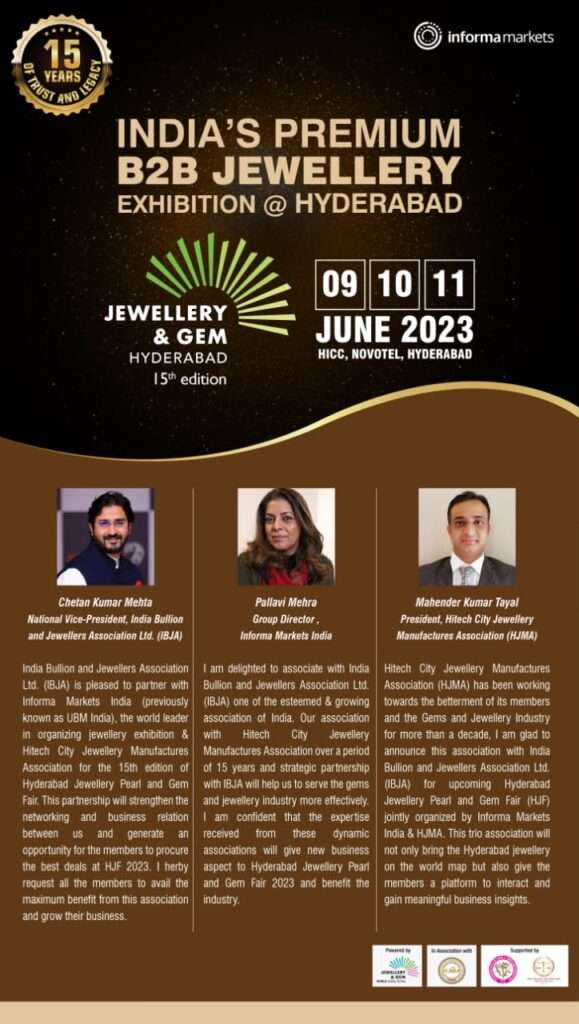 𝐀 𝐆𝐥𝐨𝐫𝐢𝐨𝐮𝐬 𝐀𝐬𝐬𝐨𝐜𝐢𝐚𝐭𝐢𝐨𝐧 𝐛𝐞𝐭𝐰𝐞𝐞𝐧 𝐇𝐲𝐝𝐞𝐫𝐚𝐛𝐚𝐝 𝐆𝐞𝐦𝐬 𝐚𝐧𝐝 𝐉𝐞𝐰𝐞𝐥𝐥𝐞𝐫𝐲 𝐅𝐚𝐢𝐫 𝐛𝐲 𝐈𝐧𝐟𝐨𝐫𝐦𝐚 𝐌𝐚𝐫𝐤𝐞𝐭𝐬 𝐚𝐧𝐝 𝐈𝐧𝐝𝐢𝐚 𝐁𝐮𝐥𝐥𝐢𝐨𝐧 𝐚𝐧𝐝 𝐉𝐞𝐰𝐞𝐥𝐥𝐞𝐫𝐬 𝐀𝐬𝐬𝐨𝐜𝐢𝐚𝐭𝐢𝐨𝐧 𝐋𝐭𝐝. (𝐈𝐁𝐉𝐀) & 𝐇𝐢𝐭𝐞𝐜𝐡 𝐂𝐢𝐭𝐲 𝐉𝐞𝐰𝐞𝐥𝐥𝐞𝐫𝐲 𝐌𝐚𝐧𝐮𝐟𝐚𝐜𝐭𝐮𝐫𝐢𝐧𝐠 𝐀𝐬𝐬𝐨𝐜𝐢𝐚𝐭𝐢𝐨𝐧 (𝐇𝐉𝐌𝐀) 𝐞𝐬𝐭𝐞𝐞𝐦𝐞𝐝 𝐚𝐧𝐝 𝐠𝐫𝐨𝐰𝐢𝐧𝐠 𝐚𝐬𝐬𝐨𝐜𝐢𝐚𝐭𝐢𝐨𝐧 𝐢𝐧 𝐈𝐧𝐝𝐢𝐚.
Industry Stakeholders Mr. Chetan Kumar Mehta, National Vice President, India Bullion and Jewellers Association Ltd. (IBJA), Ms. Pallavi Mehra, Group Director, Informa Markets India and Mahendar Kumar Tayal, President of Hitech City Jewellery Manufacturing Association (HJMA) shared their thoughts on this dynamic associations between the two.
This partnership will strengthen the networking and give new business aspects to the 15th edition of Hyderabad Gems and Jewellery Fair (HJF).
𝐇𝐮𝐫𝐫𝐲 𝐮𝐩! 𝐑𝐞𝐠𝐢𝐬𝐭𝐞𝐫 𝐍𝐨𝐰 𝐚𝐧𝐝 𝐀𝐕𝐀𝐈𝐋 𝐄𝐀𝐑𝐋𝐘 𝐁𝐈𝐑𝐃 𝐎𝐅𝐅𝐄𝐑 𝐀𝐍𝐃 𝐒𝐀𝐕𝐄 𝐑𝐒.𝟏𝟎𝟎𝟎/–
𝐋𝐢𝐧𝐤 𝐭𝐨 𝐫𝐞𝐠𝐢𝐬𝐭𝐞𝐫: https://bit.ly/hjf23sm
𝐨𝐫 𝐜𝐚𝐥𝐥 𝐨𝐧 𝟖𝟔𝟓𝟐𝟎𝟏𝟐𝟓𝟑𝟏 | 𝟖𝟔𝟓𝟐𝟖𝟏𝟐𝟕𝟏𝟕 | 𝟖𝟐𝟖𝟔𝟔𝟕𝟎𝟔𝟕𝟖
𝐄𝐱𝐡𝐢𝐛𝐢𝐭𝐨𝐫 𝐋𝐢𝐬𝐭:
https://lnkd.in/dXveEsTQ