The founder of the fine jewellery company Morphée Joaillerie, designer, jeweller, and gemmologist Pamela Hastry, is recognised for her exquisite creations that are rendered in priceless jewels and metals. She has three distinct product lines: Haute-Joaillerie, which specialises in custom jewellery made with one-of-a-kind diamonds; Joaillerie, which has limited-edition pieces that express the brand's artistic vision; and Prêt-à-Briller, which is influenced by flowers and insects.
Pamela, a furniture and product designer, made the decision to switch professions and focus on jewellery design. She relocated from London to Rome for her IED (Istituto Europeo di Design) training, then spent time in Paris at the Haute École de Joaillerie (HEJ) institute studying various manufacturing processes. She travelled the globe as a result of her interest for gemology and jewellery culture.
The 2013 opening of Morphée Joaillerie in Paris owes its name to Morpheus. "He is the God who leads people into the realm of dreams. My job is to make dreams come true using fine craftsmanship, precious stones, and precious metals so that they can exist forever, she said.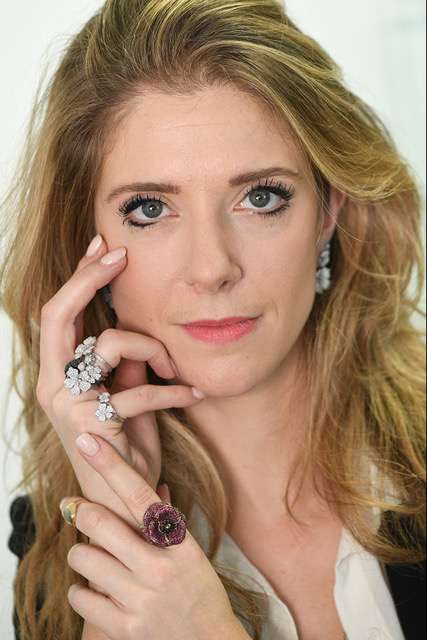 She established a Belgian branch in 2021, and the following year she unveiled her first flagship location in Brussels' Sablon, which is home to Messika and Boucheron as well as luxury shoe company Louboutin and high-end chocolatiers.
Today, Pamela splits her time between the workshop in Paris, sourcing gemstones such as diamonds at the Antwerp stock market and her store in Brussels.
75 pieces of jewellery were unveiled by Pamela during the Vicenzaoro event in Italy. Buttercups, White or Pink Cherry Blossoms, Forget-Me-Not, Clovers, Scarabs, and Ladybirds are all part of the Prêt-à-Briller collection.
The nature-inspired diamonds known as Prêt-à-Briller (meaning "ready to shine") are inspired by French and Flemish paintings from the 17th and 18th centuries, in which plants, particularly flowers, as well as the nearby insects and items acted as symbols in works of art, she says.
The stackable rings create a floral ombré while the earrings change into charms that may be attached to a pendant, necklace, bracelet, brooch, or pair of cufflinks. "The jewels in the Prêt-à-Briller collection are essential to its idea—'ready to dazzle.' Shiny stones were used to create this assortment. The hues, colouring, and types of gems all correspond to those of the actual flowers or insects that can be found in nature. I strive to live as near to the realm of nature as I can, says Pamela.
"I wanted an everyday collection with gemstones because I'm a gem enthusiast. In the instance of Prêt-à-Briller, I kept the great quality of the stones and design while using 9-karat gold instead of 18-karat since you couldn't see the difference, but you can definitely tell the difference in price, she explains.
Pamela is in discussions with many multi-brand stores in Canada, France, and Belgium who are interested in carrying the collection. "Details will soon be shared on our social media; keep checking back! The Prêt-à-Briller collection can be purchased in the meantime from Morphée's website, store in Brussels, or by appointment in Paris, she continues.