Golay Buchel Celebrates One Year Anniversary and GB India Foundation Day
Golay Buchel Trading Company, the leading importer of Golay Buchel Zirconia, is proud to do a digital celebration of its one year anniversary and GB India Foundation Day from 3rd April to 9th April 2023. Since its inception, Golay Buchel has made significant progress and has become a trusted name in the jewellery industry. Golay Buchel is one of the oldest Zirconia manufacturing Swiss origin brand, founded in 1887. The company has come a long way since then and is now known for its quality products and excellent customer service. The Golay Buchel India team would like to thank all its hardworking employees for their dedication and commitment towards ensuring the best products and services are delivered. The company's success is also attributed to its stockists and manufacturer brand associate. Golay Buchel Trading Company is grateful to all its stockists, beginning with Super Stockists – Sign International in Mumbai and Rajendra Jewellers in Hyderabad, and other city stockists, such as Pratistha Jewels LLP in Mumbai, Lakhani Gems in Rajkot, Sun Gems in Jaipur, Sri Shobha Diamonds in Chennai, S.L. Jewellers in Indore, Lakshmi Narayan Gems House in Kolkata, and Dhaval Jewellers in Ahmedabad. The Manufacturer Brand Associate, AMY Jewellery Designers, has been instrumental in the company's success.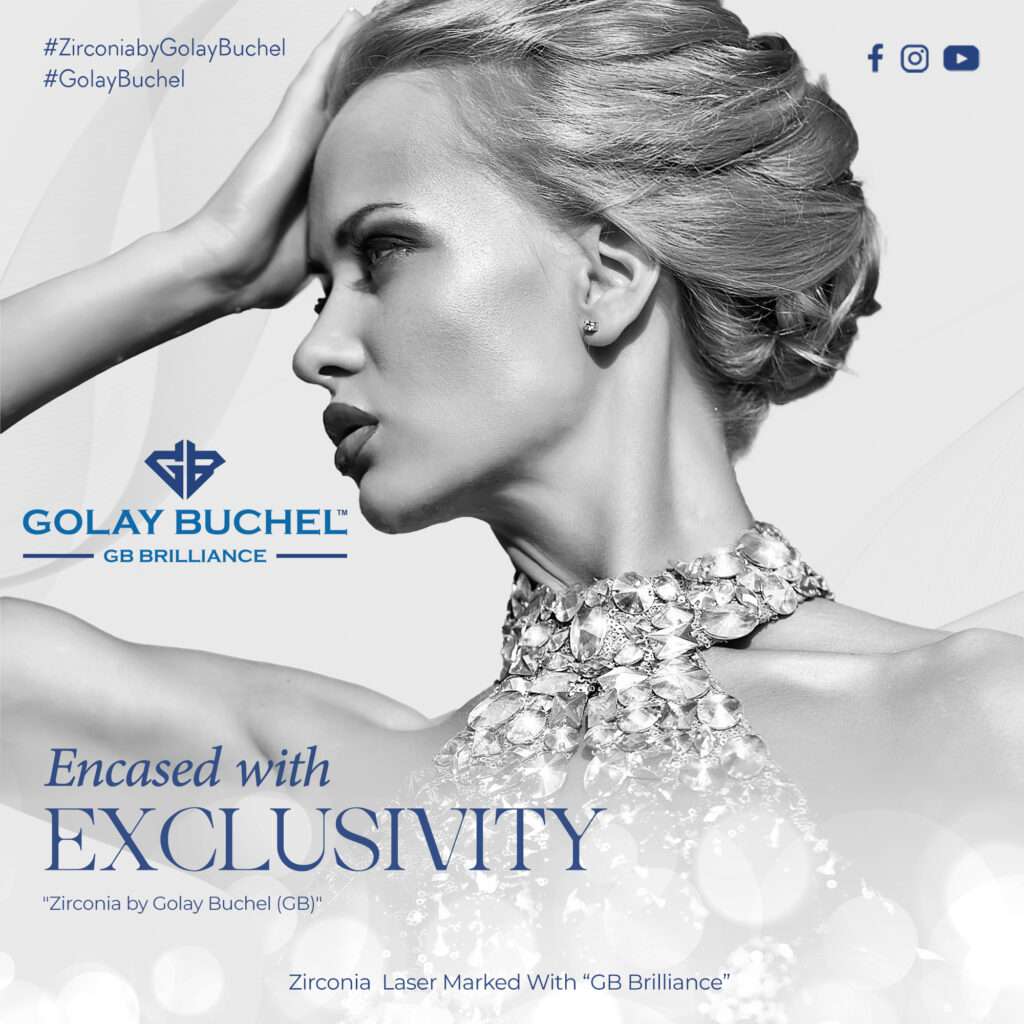 Over the past year, Golay Buchel has achieved significant milestones, expanding its product line and developing new partnerships. The company has also participated in several events, gaining recognition and increasing its reach. The company will continue to bring more varieties of zirconia in various sizes, shapes & weights while embracing new technologies and innovations and expanding its reach to newer markets. Golay Buchel Trading Company is NITESH SANGHVI, CEO India. Golay Buchel grateful to all associations & their respective chair persons, including Mr. Prithviraj Kothari, National President of IBJA; Mr. Chetan Mehta, National Vice-President of IBJA; Mr. Surendra Mehta, Secretary of IBJA; Mr. Saiyam Mehra, Chairman of GJC; Mr. Rajesh Rokde, Vice Chairman of GJC; Mr. Aashish Pethe, Ex-Chairman of GJC for their constant support in all our endeavours. The company is also thankful to eminent personalities from the industry, including Mr. K. Srinivasan, Chairman & Managing Director of Emerald Group, and Mr. Nishadh AK, Group Executive Director & Co-founder of Malabar Gold & Diamonds.