Sladjana Sales Corporation, founded by Mr. Tanay Zaware in 1999, with an aim of providing the industry with a series of highly sophisticated and technically sound machines and equipment's that serve the purpose of refining facility for the jewellery industry and other related activities to recover Gold, silver, from jewellery waste, automobile, optical waste, dental waste & E-waste as well as pharmaceutical catalyst.
Our business is supported by a wide marketing and distribution network and hence we have established a reputation for strong customer support in the market. We further continue to grow our overseas manufacturing footprint, with our reputed presences in Far East, gulf and Middle East as well as the entire African region.
Our Vision :- Sladjana Sales Corporation is responsive to customer
requirements, consonant with its core competence and
profitability. It also provides total satisfaction by giving
the customer the right product, at the right price and at
the right time. Our vision serves as the framework for our
roadmap and guides every aspect of our business, in order
to achieve sustainable growth and quality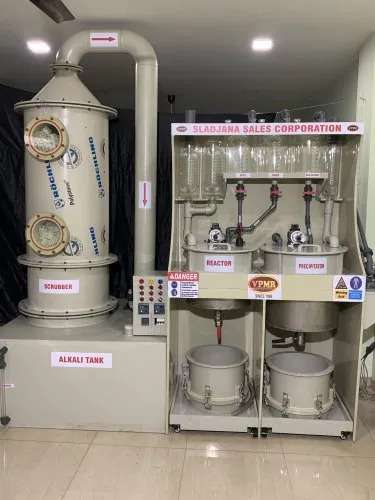 OUR MISSION
1. To provide not only advanced automated but
also technically superior quality equipment.
2. To help nations conserve noble metals.
3. To enhance client relationships with honesty
and courtesy.
4. To be a leader and role model in a broad base
and integrated refinery industry/sector.
OUR TEAM
Our team of proficient, skilled and experienced professionals is the backbone of our organization. It ensures that our clients are provided with the best available services. Regular training is given to the employees to enhance their skill in the refining process and orient them to ensure maximum client satisfaction.
Our team of professionals comprises of:
Engineers
Quality control personnel
Research & development associates
Technocrats
Administrators
Designers
Sales & Marketing personnel
OUR STRENGTHS
We are capable of providing a complete package of refining services to our clients. The strengths of our organization make it a foremost choice for different refining services by our clients.
Our strengths include following:
Strategically Located: We are intentionally located in India's business Capital to effectively serve both Indian & Foreign markets.
Advanced Technology
Experienced Workforce
Prompt Services
CUSTOMIZATION
As we are a customer centric organization, we give our clients prime priority in our organization & undertake every attempt to satisfy them in each and every aspect. We offer exclusive customized services to our clients and also offer to them a working trial of the product. The services delivered on custom basis adhere to the complete specifications provided from the client's end.
LIST OF PRODUCTS
Automated gold refinery plant
Automated silver refinery plant
Copper refinery plant
Effluent treatment plant
Fire assay set up
Dust burnout furnace
Chatka plant
Fume hood
Hand wash
Wet scrubber
Blower
Storage/Settling tank
Melting furnace
Induction furnace
Granulator
Graphite rod
Graphite crucible
All kind of refinery set up and consultancy